Stroll on State: Holiday Stories of Resilience Strike Addy Gold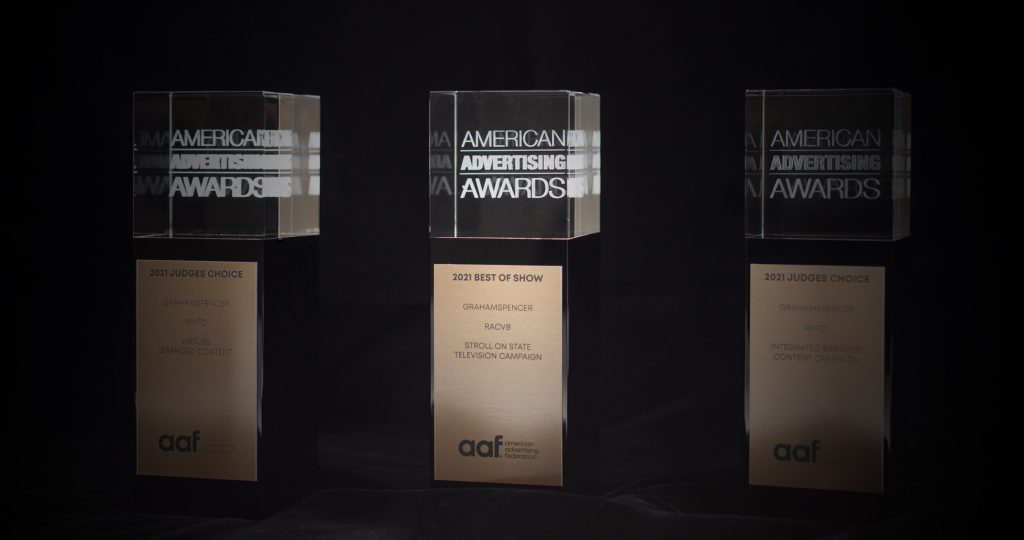 In 2020, in the midst of the pandemic, Sharefest and the Rockford Area Convention & Visitors Bureau made the decision to recreate their expansive, popular Stroll On State Christmas event – in socially distanced fashion. They did so to avoid the human crush of 60,000 revelers packing Rockford's center city on Thanksgiving weekend to kick off the Christmas season.
The organizations' leaders decided to decorate downtown in the same festive way as always (transforming it into a beautiful winter wonderland), but move the big kick-off party to a broadcast format residents and visitors could enjoy safely on WREX-TV.
RACVB turned to GrahamSpencer to create mini-documentaries to celebrate how inventive Rockford citizens were responding to the pandemic. The rub? We had just two weeks to conceive of, pre-produce, produce and post-produce five high-quality segments.
Video 01:
The Real Impact of Stroll on State
Our role was to sprinkle the broadcast with compelling stories of resilient Rockfordians and the noteworthy ways they were responding to the difficult challenges presented by the crisis. From a story about Stroll on State's hard-working volunteers to a local ice cream shop owner's Covid pivot to how a Rockford family never says "never" when it's time to make a holiday lip-synch movie, viewers enjoyed the simple, inspiring stories of resilience and joy in the face of a holiday otherwise darkened by a deadly health crisis.
The broadcast and the stories aired to rave reviews and much viral social media discussion and praise. American Advertising Federation ADDY Judges loved the mini-documentaries, too – awarding the series Best of Show and a Gold ADDY in the 2021 Northern Illinois chapter's AAF competition. Please have a look …
Video 02:
Here 4 Good – In the Worst of Times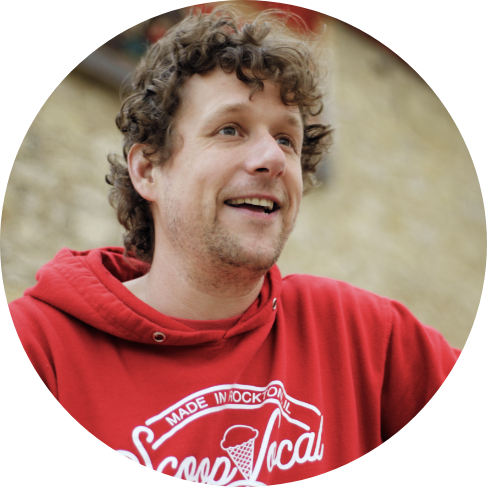 Brent Murray, Dairyhaus Homemade Ice Cream, Owner/Operator
It was such a privilege to meet and work with many gifted, hard-working people during 2020. Those relationships I forged have grown during the following months. I got super excited about meeting people who saw the crisis and looked at their businesses and community and thought outside the box. It's like, when a challenge arises, do I b*tch and moan – or do I pivot? I now know the answer. Owning an ice cream shop, I tell my staff that we host a party every single day; but, our party was shut down for a while. Learning to make the most of the crisis was a life-altering experience, and I'm so grateful to those who helped me. Being highlighted in the stories you made meant a lot to me on a very emotional level. It was heartwarming.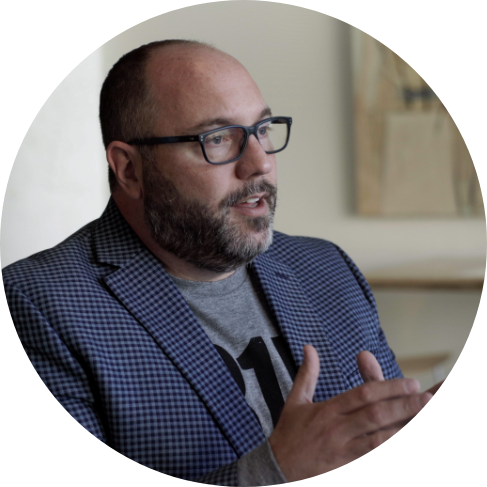 John Groh, CEO Rockford Area Convention & Visitors Bureau
Sharefest is a great partner. The best. The minute they committed to Stroll On State for 2020, we committed – with no hesitation. Living in the midst of the pandemic, among deflating acts of injustice like George Floyd's killing, with people struggling to survive emotionally, financially and even physically, it was the right thing to do. The necessary thing to do. I like to say Stroll is always about 'going up and to the right' – that It's about getting better and more unified as a community. Creig Day talks about how he and his volunteers are motivated to 'share their God-given talents and gifts during this one and only life.' I love that. And, I love the way the videos showed how creative people in this extraordinary region moved from response to resilience to recovery curing Covid. With the benefit of hindsight, I see this was an incredibly inspiring place to be in 2020.

Video 03:
The Tillmon Family Christmas: Never in Doubt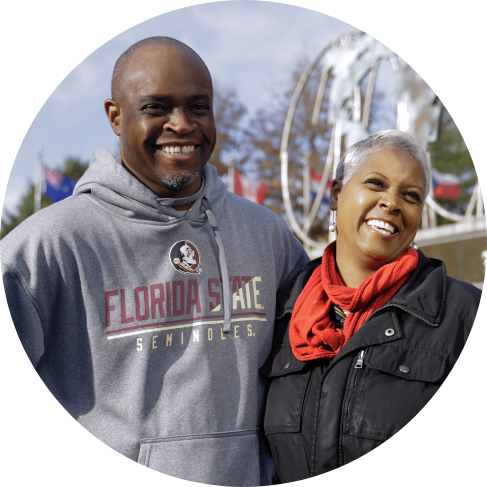 Reggie Tillmon, Tillmon Family Christmas
We were so glad to be a part of that program – and as excited as we were, we managed to keep it a secret right up until it aired on WREX TV. Christmas is our favorite time of year and Stroll on State is my favorite event, so keeping it secret was not easy! But, it sure was fun to hear from all our friends when they saw it on air, and to see all the Facebook posts that evening. We loved seeing the other stories, too, and learning about how other Rockford folks were dealing with the pandemic in creative ways. I loved the diversity in the whole program. In fact, we had been to Janene's pop-up shop and seen her the day the show aired – and she didn't tell me she was going to be on it, either! Airing Stroll on State safely on TV was a beautiful, creative reflection of the city our family loves.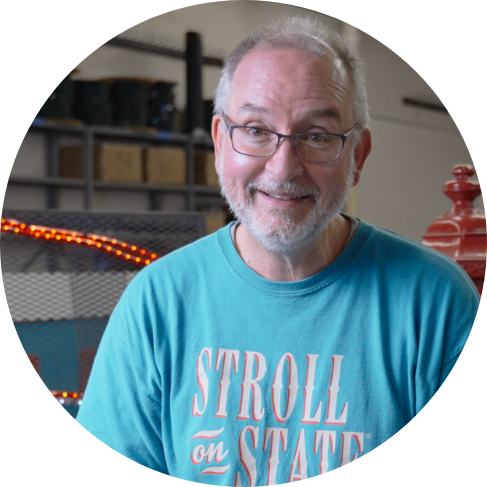 Creig Day, Director, Rockford Sharefest
2020 was tough, but our decision to go forward with Stroll on State was easy. We made the decision very early – on gut instinct, when we had no information. Now, we have all the information and we knowwe did the right thing. Covid could not stop Christmas from coming and that helped us learn who we are as a community. The stories you told that night on WREX will be like time capsules of the beauty the crisis created – how we came together and put on display who we are as a city, how we used our God-given skills to help others, how we created hope when hope was hard to see.
Video 04:
Sharefest's Volunteer Spirit Perseveres
Janene Stephenson, Owner, Js Social Cafe
When we watched the live broadcast of Stroll on State 2020, my husband and I were proud to be at the forefront of a really diverse community of businesses. Through my Women in Business network on the West side of downtown Rockford, I've built a platform for others to grow their brand awareness and Stroll put us all on a bigger stage than ever. In the weeks after, a lot of people walked into our storefront that we wouldn't normally expect to be shopping on the West side. Seeing that base of support grow gave me even more motivation. This year, the Women in Business Pop-up will be at the Rockford City Market, where we hope to continue to grow.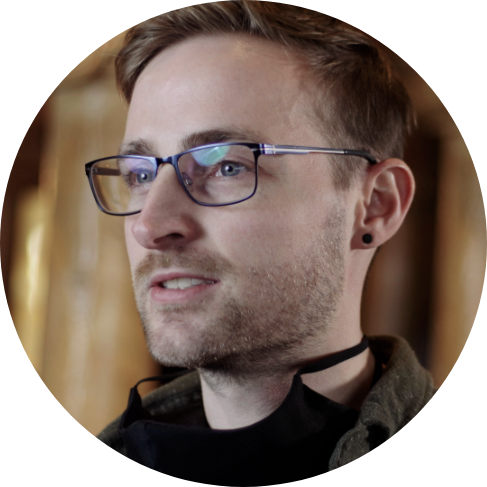 Charlie Schweiner, 3rd Generation Lino's Owner
In 2020, we did everything we could not to lay off employees who really needed their jobs. It turns out keeping them employed was not only the right thing to do, it now means while some businesses are suffering due to the labor shortage, Lino's is in good shape. What did we learn during the Covid? That with Lino's being almost 50, this city still has our back. I was working the night of the Stroll on State show on WREX, but the minute our segment aired, my phone blew up with people telling us, 'good job,' 'that was awesome,' 'so proud of you!' It was so touching – and we're so grateful to have been featured. Now, we will always have those video time capsules of the resilience of our city during one of the most trying times in its history. Being a part of Rockford's renaissance alongside so many hard-working, creative people is profound and humbling.
Video 05:
Dreams to Reality: Surviving COVID-19 With True Grit
Your brand's story deserves to be expertly told in award-winning fashion, too. Let's begin a conversation and discuss how you can put GrahamSpencer's time-tested storytelling skills to work to better connect you with your critical audiences.
Hi. How can we help you?
"*" indicates required fields