Sponsorship: Sometimes The Solution Is Staring You Right In The Face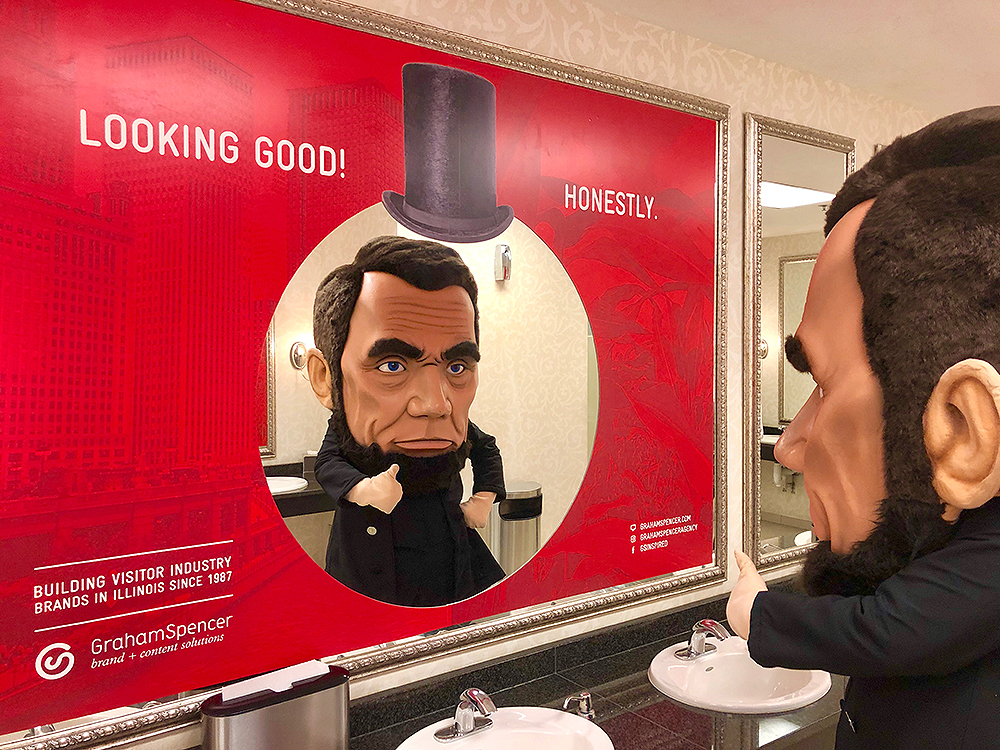 Before the pandemic, back in 2019, back when the world wasn't upside down and the domestic and international travel industries were still major drivers of Illinois' economy (as they will be again in the future), we at GrahamSpencer decided to sponsor the annual Illinois Governor's Conference on Tourism.
Event organizers asked us if we'd like to put our logo on pens. We checked the "no thank you" box.
You can put your logo on the turndown mints placed on attendees' pillows at bedtime, they said. Zzzzzzzz. Hit the snooze button.
Perhaps you could sponsor the refreshment buffet line between break-out sessions? Sounds tasty, but – what else ya got?
In search of a big idea, we uttered these fateful words in just the right place; mirror, mirror on the wall, what's the best idea of them all?
Boy, sometimes those old tricks really work. Why not take over every restroom on two floors of the stately Palmer House Hilton in downtown Chicago? Every Mens and Ladies room would become a blank canvas for pithy messages about GrahamSpencer's visitor industry marketing expertise!
Or, should it? That might be boring.
Mirror, mirror on the wall, what can we say that won't bore the hell out of the audience?
That's when it really sunk in that hundreds of peers, friends and even prospective clients would soon be combing their hair right in the middle of our GrahamSpencer's messages.
Why not just say something nice? So we did.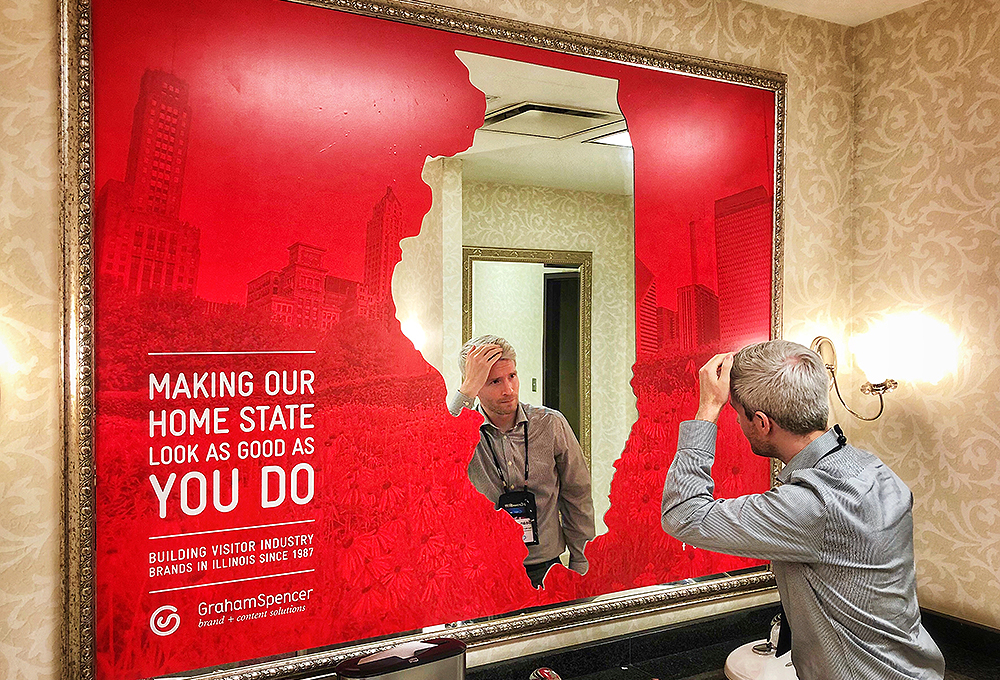 Did the gambit work? That depends on how you look at it. We definitely showed off our understanding of our headquarters state and its visitor industry dynamics – without saying so. We demonstrated our ability to fit the message to medium – without saying so. We got people to share their pictures on social media platforms – without asking them to. Our new Governor thought it was funny. And, even our 16th President gave it a good-natured thumbs up.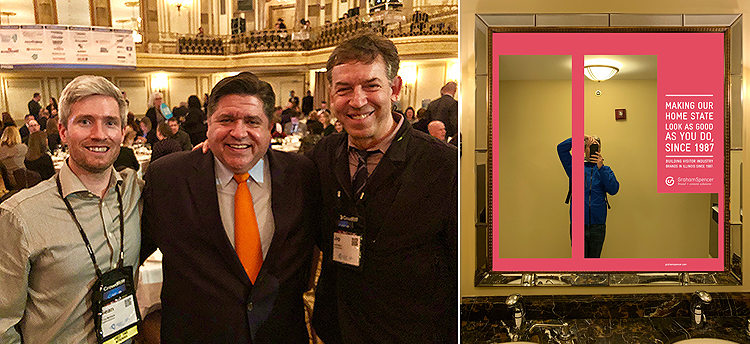 The campaign became the talk of the conference the good old fashioned way: naturally – and unavoidably. We were thrilled to be invited by the CEO of the Kankakee County CVB to do a similar campaign for the upcoming Chicago Bears training camp.
10
Mirrors were covered on two hotel floors
4
Men & Women's bathrooms covered with clings
Tourism Is Big Business In Illinois.
$43.1
Billion spent by visitors in Illinois in 2019 supporting 344,000 jobs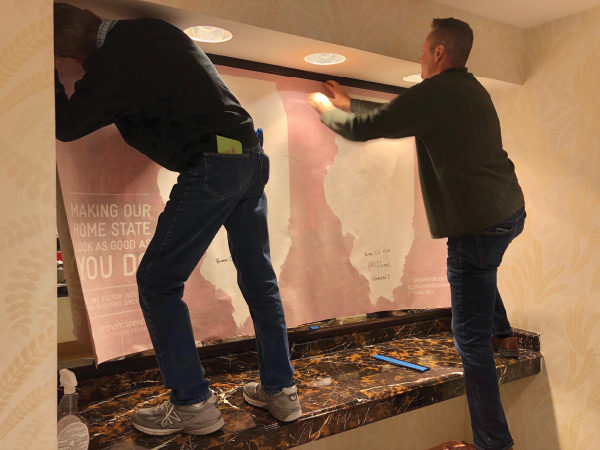 Overall, we think the work reflected quite well on GS, the tourism industry and the state we love. It even won a couple ADDY awards.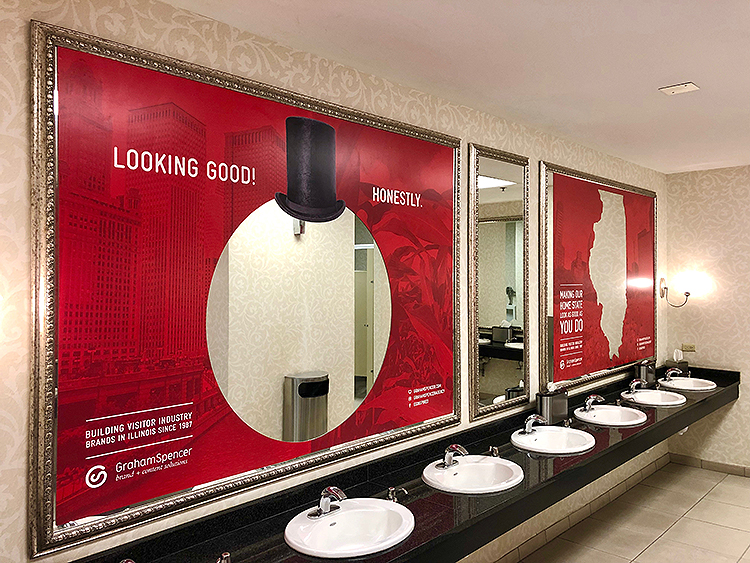 If you're looking for a strategic design and advertising team capable of helping surround your prospective customers with your message in delightfully unexpected ways, it may be time to wash your hands of tired old resources – and contact GrahamSpencer.