Rosecrance Behavioral Health: Expressing Heartfelt Gratitude Via High Quality Video 
It is no secret that video is an increasingly popular and reliably effective way to communicate ideas, educate people and sell products and services. Done well, video is also one of the best ways to make and maintain emotional connections with one's audience. According to research, most companies plan to spend more money on video as a percentage of their marketing budgets now and in the future.
On the heels of GrahamSpencer's successful 2020 video Champions of Hope, Leaders in Recovery, Rosecrance Behavioral Health returned to GrahamSpencer to create another critical video tool in 2022. Rosecrance's goal was to let its generous donors know just how much their contributions – both emotional and financial – are appreciated by clients and staff alike. Donors – and their incredible generosity – are at the heart of Rosecrance's ability to meet its difficult mission. They are the organization's essential fuel.
The primary purpose of the proposed 2022 video was for sharing at Rosecrance's first in-person Annual Benefit in three years. Attendees would be donors and community leaders, and the house would be packed.
During the concept and pre-production phases, Rosecrance's talented communications leadership shared with GrahamSpencer inspiring examples of client/patient letters written in heartfelt gratitude for the progress the clients had made addressing the addiction and mental illness for which they were being treated.
One line in one sentence in one letter, in particular, resonated with us. It became the fulcrum of the creative concept we were about to launch: due to you and many others with the same heart, my life was saved. The grateful writer's message was arresting in its poetic authenticity, transparency and clarity. The writer signed off with these touching words; you make life worth living. Finally, the writer included a beautiful line drawing of a spotted carp that gently swam the waters of the Rosecrance's Griffin Williamson Campus Reflection Pond during his time on campus.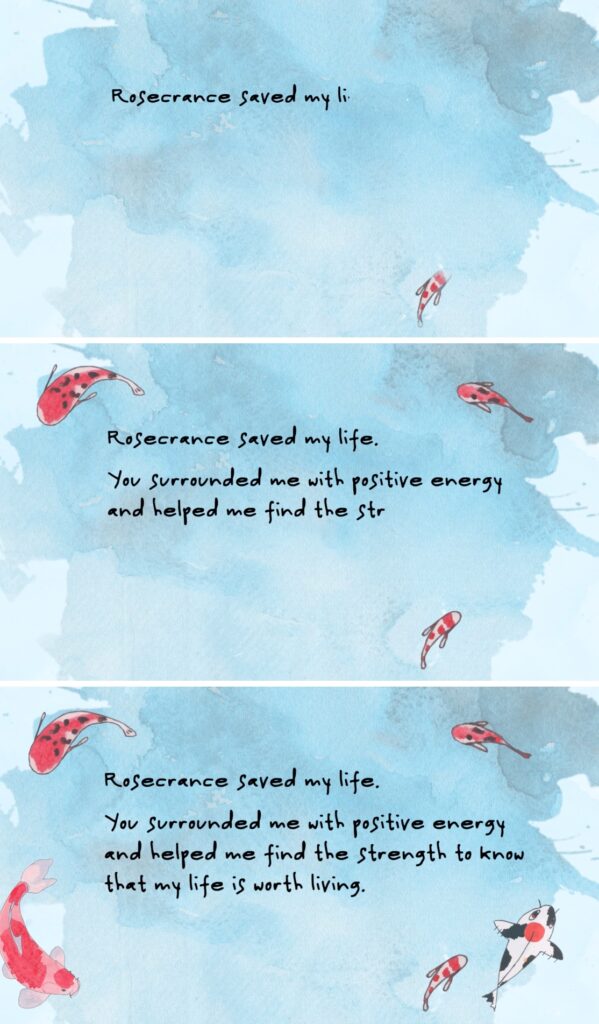 Our GS team used that letter and others as fuel for our creative exploration and sketched out a plan for a compelling video that mixed our own words with those of Rosecrance's clients. We decided to go all-in on the messages themselves and bring them to life via animation. Ernie Hendrickson, whose song Hold on to Hope was a centerpiece of GS's 2020 Champions of Hope, Leaders in Recovery video, returned in 2022 with a unique interpretation of The Beatles' standard Here Comes the Sun, anchoring the production's hopeful audio track.
The evening's guests were moved and motivated by the video's heartfelt messages of gratitude. And it was the topic of many warm conversations among Rosecrance staff for days following the event.
GrahamSpencer's award-winning success in creating outstanding video tools and integrating them into effective campaigns and education efforts is unrivaled. We're getting more and more requests for video, with good reason. Strong video content tells stories, builds trust, works across all digital and traditional platforms, is loved by search engines and it reliably drives clicks and conversions. If you're looking for skilled help creating and producing high quality video, let's talk. We invite you start with an email.