Remembering John McNamara (1939 – 2020), Mayor, City of Rockford, 1981-1989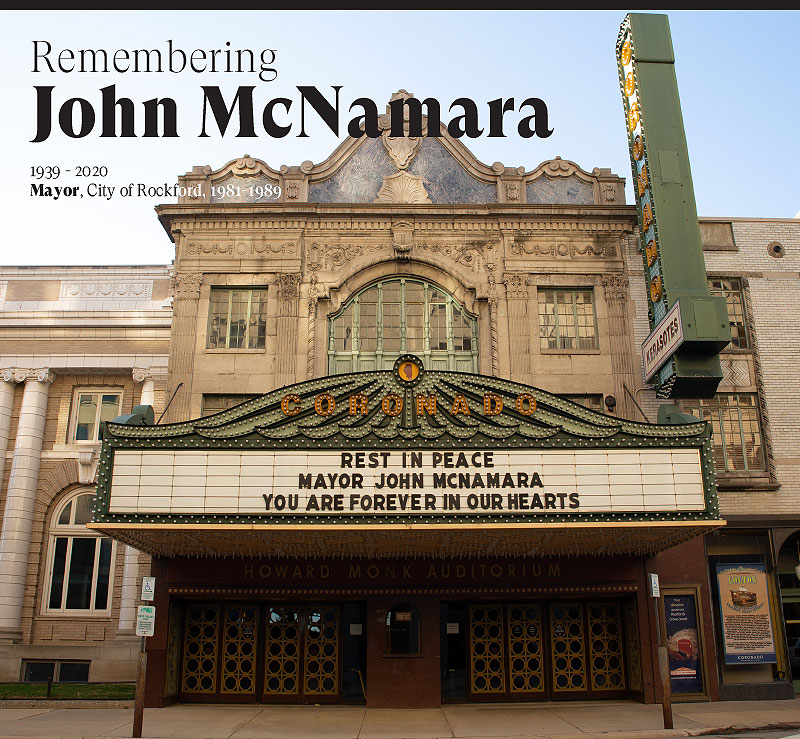 In 1980, I graduated from Saint John's University and joined the staff of downtown Rockford's MetroCentre (now BMO Harris Bank Center). Working for General Manager Doug Logan in those early days of our downtown arena/auditorium was a little bit like Basic Training in rigor – but doubtless a lot more fun. My next gig was with the Council of 100 (now Rockford Area Economic Development Council), where I worked for CEO John Holub.
In both positions I was lucky to find myself under the tutelage of great leaders in Logan and Holub – and in the orbit of Mayor John McNamara. John served our community as Mayor from 1981 – 1989.
It is important to understand the economic context of that time:

Unemployment in the Winnebago County reached 26% in 1981
Inflation was 10.32% in the US and higher here.
Amtrak halted its service between Chicago, Rockford and Dubuque.
Manufacturing jobs fled the United States – and "Rust Belt" cities like Rockford, Illinois, in particular.
Rockford was in an economic and cultural crisis – and we were lucky to have a leader like John McNamara at the helm. John was a huge presence everywhere he went. He was tall, lanky and confident. (Confident, not cocky; he didn't have a narcissistic bone in his body.) He was an outstanding listener, and an inspiring speaker. He had a big, loud voice and an even louder laugh. He didn't suffer fools gladly, though; if you incurred his anger, you would more than likely be confronted with the colorful language he learned during his military service. (John served in the U.S. Army, in Vietnam)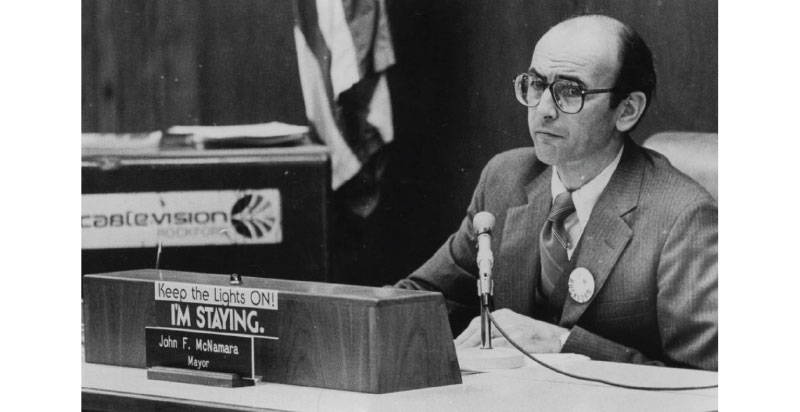 He had a quick smile, a firm handshake and an even firmer hug. His hugs made you feel special – like he truly appreciated the fact you were in his life. I am sure I was at best a minor player in the drama of John's life, but he made me and everyone else feel essential. In my experience, those are hallmarks of great leaders. You come along, they don't drag you.
As Mayor, John McNamara gave us his confidence. He gave us his optimism. He showed us it was OK to love our city – a place with an uncannily persistent inferiority complex. During that awful recession of the early 1980s, we needed badly to come together and believe in ourselves – and not let go of our dreams as we struggled just to survive. He was a proponent of our downtown. He was a proponent of the arts. He was a proponent of racial equity. He was a proponent of women's rights. He put women in positions of power in his administration and in appointed positions.
John did extraordinarily creative things for the times:
He encouraged the MetroCentre to take responsibility for tearing out the pedestrian mall that encumbered traffic downtown – and to take over operation of the Coronado Theatre when Kerasotes abandoned it.
He helped establish the Council of 100, now the Rockford Area Economic Development Council with former alderman John Holub in the role as President. John then helped facilitate the Council of 100's move to embark on trade missions to Sweden and Germany, and open a satellite office in downtown Chicago.
He founded the Rockford Area Convention & Visitors Bureau and installed the equally inspiring and energetic Wendy Perks Fisher at its helm.
It was apparent to me as a young man in those days that John McNamara, Doug Logan, John Holub and Rockford Park District director Webbs Norman, aided and abetted by a merry cast of City Council members, State of Illinois and Federal elected officials and a willing cadre of smart, successful business people (Carl Dargene to name just one) were bound and determined to see Rockford rise from the miserable days of that early 80's recession. What an extraordinary, inspiring, dynamic time that was in Rockford's history. I'm lucky to have been a fly on the wall.
By the late 1980's, Rockford was pulling itself up by its bootstraps under John's leadership. The data is really pretty astounding. In 1987, Rockford ranked 31st in the nation in percentage increase in new construction over 1986. 1988 was better by 15%. That was a year when the City's Building Department issued 9,500 building permits. Zoning activity was up dramatically. Two factors contributed to this growth; a resurgent economy and the City of Rockford's aggressive annexation program which added 1.4 square miles of land and $13 million to assessed valuation.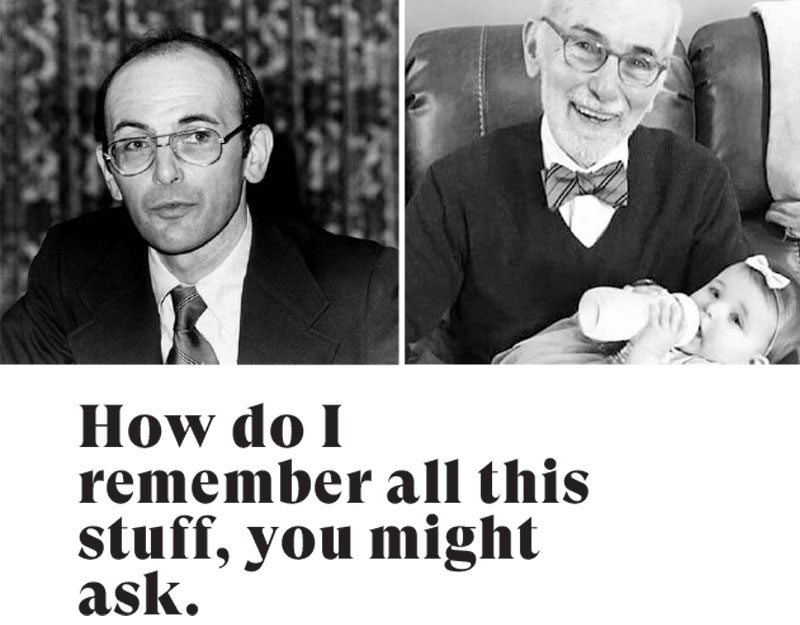 The answer is we at GrahamSpencer recorded it for John in 1989, in what amounted to an eight-year annual report. One of my proudest moments as a young business person in advertising and design was in 1988 when Mayor John McNamara visited our office and told Scott Spencer and I that he wanted us to design and produce a "performance report" of his eight years in office. John paid for the design, production and printing out of his own pocket. He wanted to hold himself accountable for his performance – and he was proud of what the city had accomplished during his two terms as Mayor. That assignment may well be the highest compliment ever paid to our little company – and it came in the second year we were in business.
The piece was titled "Rockford, Illinois / A City That Works / Performance Report / 1981 – 1988." John was careful to deflect all credit from himself and give it to others. You won't find a single sentence in which John McNamara pats himself on the back. It's all about the team and the city he loved.

We thought it would be fun to share that document with you all today as our tribute to John McNamara. I will never forget him and I know nobody who was paying attention to Rockford's performance in the 1980s will, either. Rest in Peace, Mayor McNamara. Under your leadership, Rockford truly became a City That Works.
Jay Graham, GS Founder, Co-Creative Director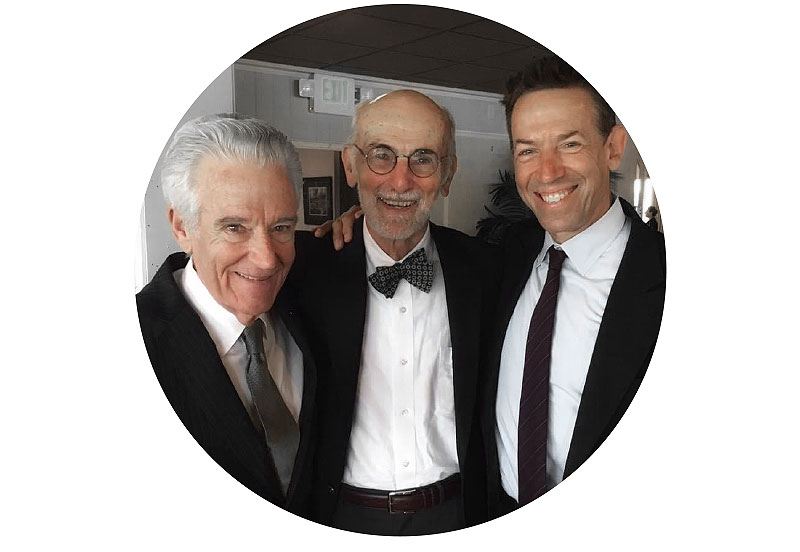 Picture: Doug Logan, John, McNamara, Jay Graham, 9/10/16