PrairieView Golf Club: A Tallgrass Prairie Where the Buffalo Roamed
In 2019, GrahamSpencer helped the Byron Forest Preserve District re-brand PrairieView Golf Club. The iconic track is a favorite of GS Founder and Co-Creative Director Jay Graham, Co-Creative Director Scott Spencer (who lived in Byron as a child) and Technology Director Adam Tobias. Our team's enthusiasm for the project was baked in.
GSearch, our proprietary research and planning methodology revealed many of the attributes fans of the sprawling course admire most: its challenging layout, excellent conditioning, the Byron Forest Preserve District's dogged preservation of the natural landscape – and even PrairieView's somewhat remote location.
Anyone who visits the fascinating Jarrett Prairie Center or any of the Byron Forest Preserve District's lovely preserves can quickly see how seriously its board and staff take their responsibility to preserve and protect natural lands and to educate fellow citizens. So, it was "natural" for our team to explore brand identity concepts that focused on the natural heritage of northern Illinois' lush, tallgrass prairies and stately oak savannas.
The iconography of a powerful bison tested extremely well during Validation Research. Respondents liked the dramatic nod to the natural world inhabited in the early 19th century by the giant creatures and the native Americans who once hunted and revered them. Research respondents said the graphic connection to the land's past felt "good," "natural," "honest" and "authentic." That is branding gold, any marketing expert will tell you.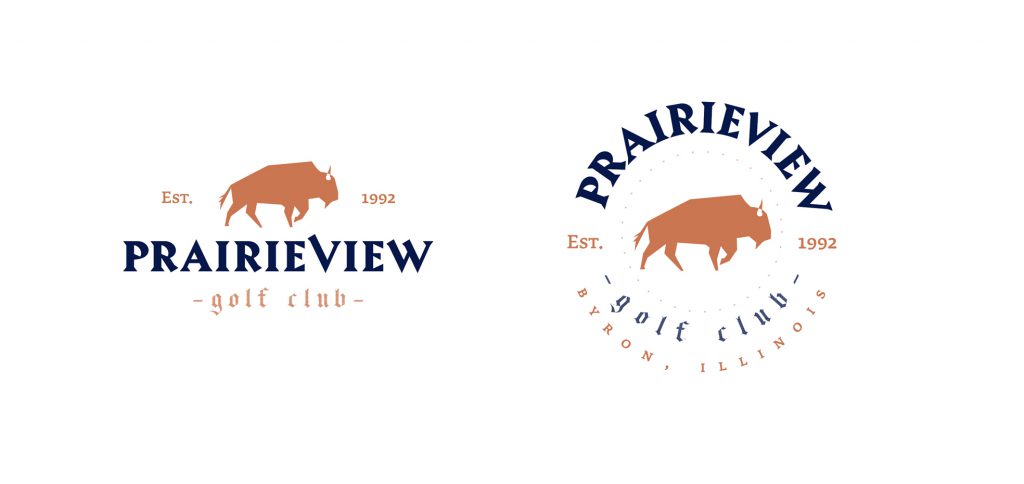 The new bison logo and naturalistic brand positioning allows PrairieView Golf Club to stand apart from its generally more urban competition. Even the distance from Rockford, Byron's largest nearby population center, has been cast as positive in the showcase video created by GrahamSpencer.
After the logo was finalized in the fall of 2019, GS launched a concerted effort to create a dynamic, responsive, e-commerce enabled website and other branded elements.
Although the brand was quietly unveiled during the Covid-19 crisis of 2020, Prairie View Golf Club and the Byron Forest Preserve District have received a great deal of praise as returning players are delighted to encounter the surprising new work as they fill the bison-emblazoned tee sheet.
Rounds were up dramatically in 2020 and 2021, as were merchandise sales. In 2021, PrairieView enjoyed a fifteen-year high of 27,000 rounds. This is an astounding resurgence the course has not seen since the late 1990's and early 2000's of the Tiger Woods-fueled surge in golf.
Concurrently alongside the rebranding of PrairieView Golf Club, GrahamSpencer also branded the spectacular new Toptracer facility PrairieFire Golf + Grill. Click here to view that Case Study.