For Immediate Release: GrahamSpencer Scores 2017/18 ADDY Best of Show Beer Branding Twofer
Rockford, IL May 22, 2018 At the Northern Illinois Advertising Federation ADDY Awards, GrahamSpencer received Best of Show honors for the second consecutive year for its work rebranding a craft brewery.
In 2018, Best of Show work was done for Big Grove Brewery in Iowa City, Iowa. In 2017, it was Prairie Street Brewing Co in Rockford, IL.
"It was quite an honor to receive these awards," said Jay Graham, founder and creative director of GrahamSpencer Brand + Content Solutions. "It's always nice to be recognized by your peers and our team deeply appreciates the recognition. However, the real honor was to gain the trust of our clients. We know how much their businesses mean to them – and what is at stake when they choose to rebrand."
Prairie Street Brewing Co, Rockford, IL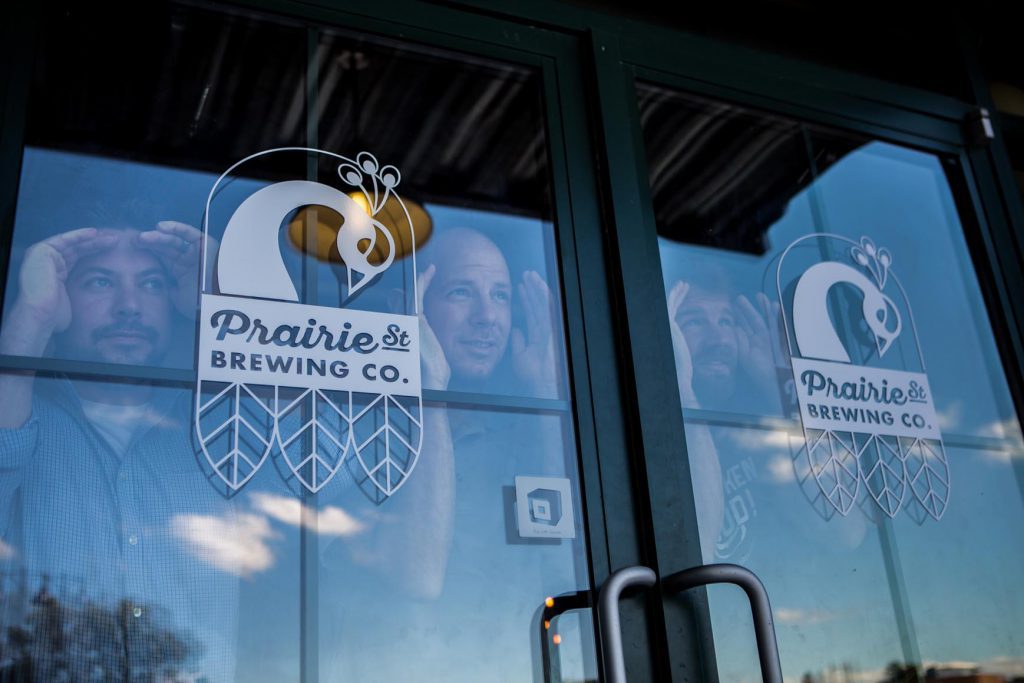 Reed Sjostrom, Prairie Street Brewing Co co-owner and director of brewery operations & sales, discussed the problems the company faced.
"My partners (Chris Manuel and Dustin Koch) and I had branding and identity issues, plain and simple," said Sjostrom. "We had gotten off to a great start in a beautiful building on a beautiful river in the city my partners and I grew up in. But we were operating with two names: Rockford Brewing Co and Prairie St Brewhouse. Each name had its own logo. That was messy enough. Then, we heard from Rockford, Michigan."
The trio of beer entrepreneurs were surprised to hear from another "Rockford Brewing Co" – of Rockford, MI, that had been already established when they opened in Rockford, IL.
"That was additional motivation to get more serious about our brand," said Sjostrom. "I think we were a little too close to things, and decided it was time to bring in some professionals. We reviewed many partner options, from very large international firms to small shops. We met with GrahamSpencer several times before selecting them. The cultural fit really mattered to us and they fit best. In hindsight, it's so obvious we made the right choice. Their research and discovery processes were detailed and precise. They led us through excellent strategic recommendations and delivered an amazing new brand identity we all think fits us like a glove."
"We recommended consolidating names and logos and rebranding as Prairie St Brewing Co" said Scott Spencer, co-creative director at GrahamSpencer. "That part was easy. But, when it came time to design the new brand identity, that was a time-consuming process. We went through well over one hundred unique looks and variations on themes."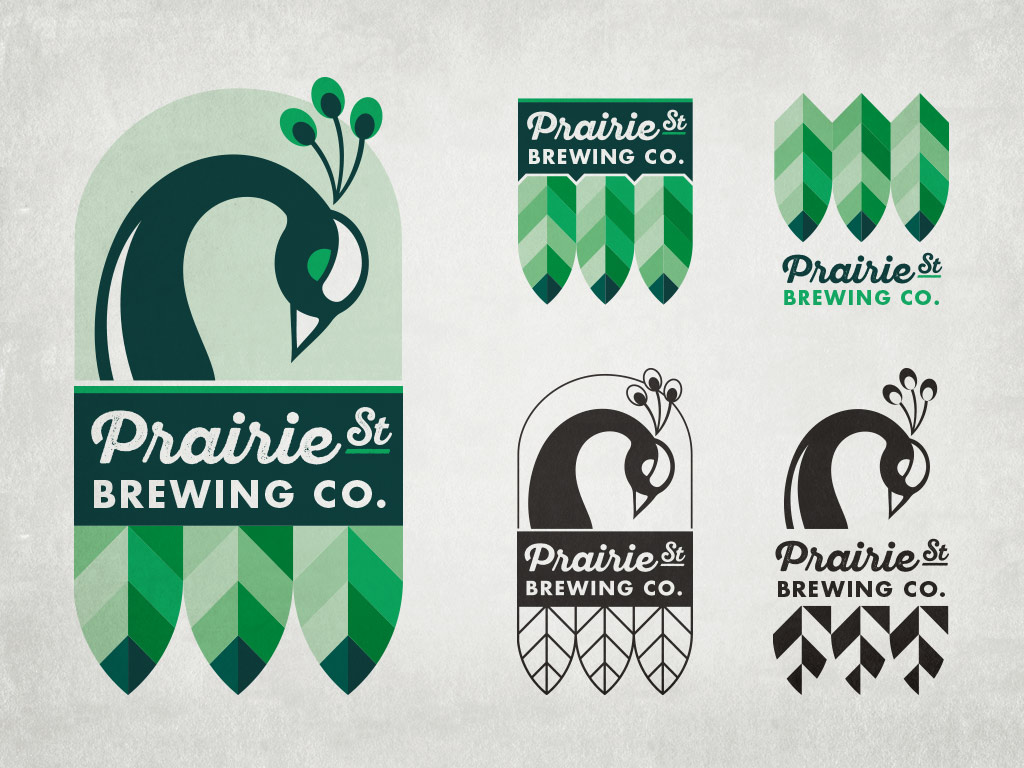 "The owners and our team were absolutely committed to getting it just right," said Graham. "At the end of the day, we saw an opportunity to create an homage to the historic first owner of the building, Jonathan Peacock, the English immigrant who moved to Rockford in 1849 to brew beer and build the brewery building he called Peacock Brewery in 1857. It was rich, fertile ground to explore – and it was relevant and honest. The mark's three feathers represent the current company's three founding partners."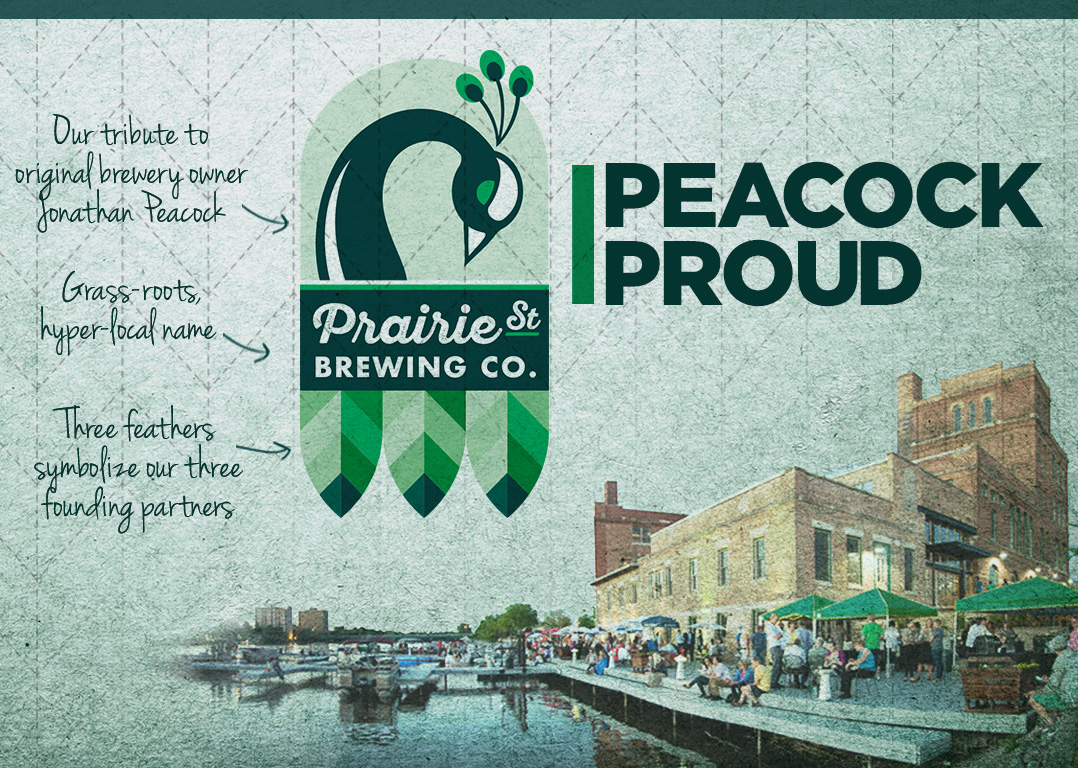 Nathan McDonald, creative director of Prairie St Brewing Co, joined the team in 2017 and has been working with the new name and logo ever since.
"As a designer and illustrator myself," said McDonald, "I love the logo. It's timeless. It's modern. It's simple. It's deep. It's so many things at once. But, most of all, it's a perfect reflection of who we are as well as the magic that happened on this property back when Jonathan Peacock was brewing beer here. The more I learn about Peacock, the more I love the logo. We've made it a mission to keep his memory alive."
"The peacock is a great conversation starter," he said. "People are always asking, 'hey, what's up with the peacock?,' and bam – now you're talking, literally. The identity is literally and figuratively a conversation starter."
View Prairie Street Brewing Co. case study on the GrahamSpencer website
Big Grove Brewery, Solon & Iowa City, IA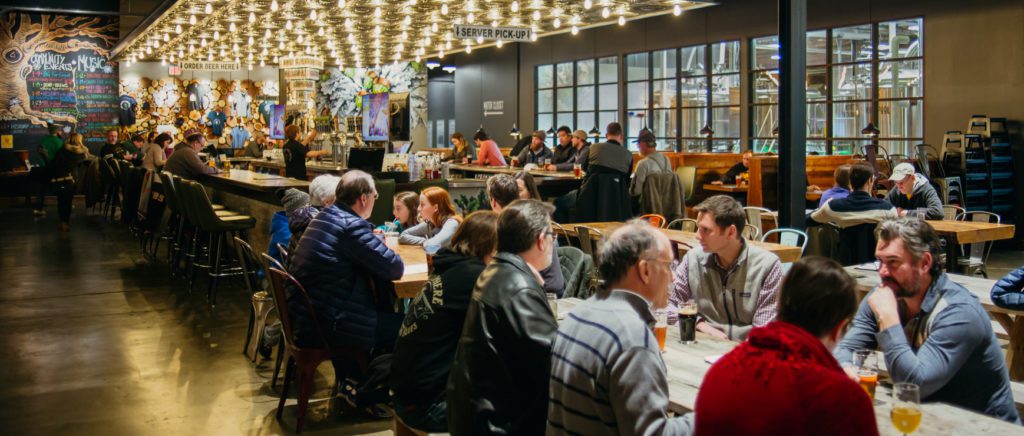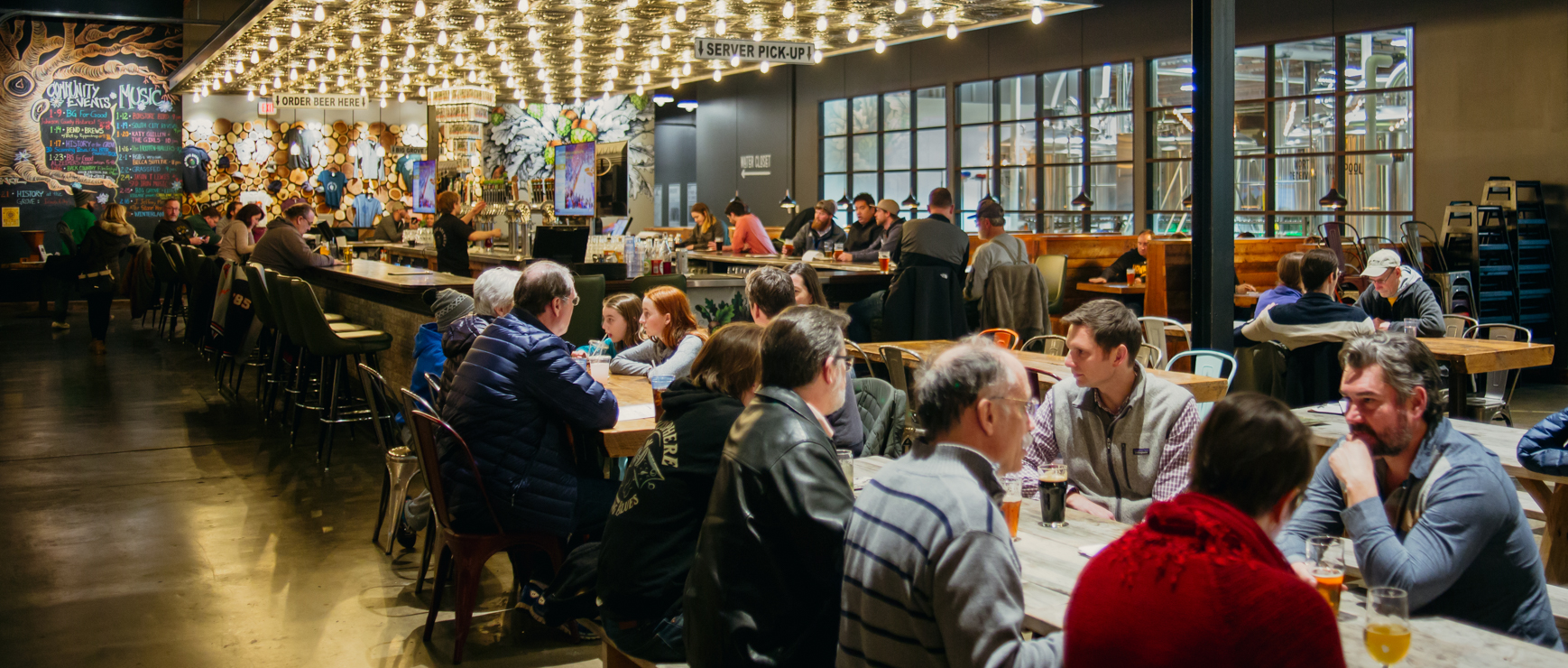 Ironically, it was GrahamSpencer's successful Prairie St Brewing Co identity work that caught the eye of the owners of Big Grove Brewery in Solon, Iowa – in an oddly serendipitous way, according to Matt Swift, Big Grove founder and CEO.
"I was a at a barbecue on the north shore of Chicago," said Swift. "I was talking to my uncle and telling him we were about to hire a Texas design firm to rebrand Big Grove Brewery in Solon, Iowa ahead of an big expansion project we were undertaking in Iowa City."
"My uncle grabbed his phone and said, 'wait, look at this work my friend's company just did for a brewery in Rockford,'" said Swift. "He showed me the Prairie St Brewing Co case study on GrahamSpencer's site. I loved the work and how it brought brewing to life for those guys."
"I shared it with my cohorts back in Iowa when I got home and they liked it, too. We had looked at firms in Chicago, New York, California and Texas, but after a couple conversations on the phone and in Iowa City, we realized GS was the best fit."
"What do I think about our Big Grove brand identity? I think it's exactly what we wanted and needed. It's us," said Swift. "But we didn't know how to express 'us' ourselves. Their process was impressive and if anything, we all felt they presented almost too many good options. The toughest part was deciding on just one direction to pursue."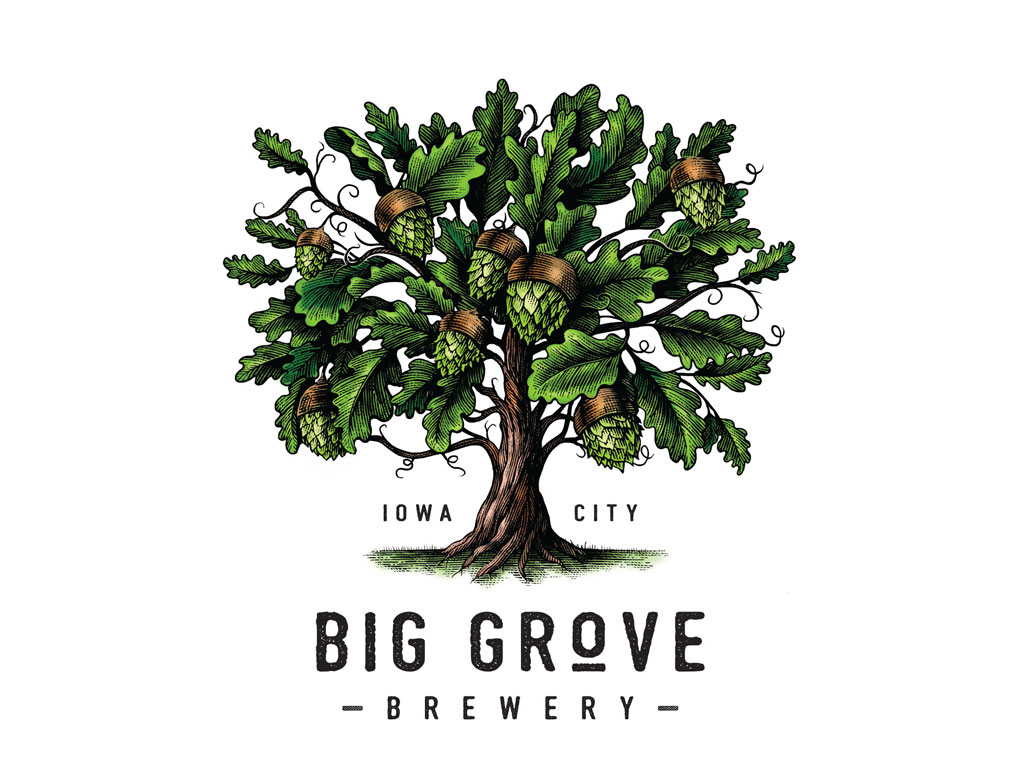 "Matt Swift, Nate Kaeding, Doug Goettsch, Chad Young and their whole team were a dream to work with," said Jay Graham. "They were open and earnest participants in our GSearch discovery process. And, they are very good at what they do. That's really the key to the success of both the Prairie Street and Big Grove projects: the intelligence, skill and dedication of the owners and the teams they assembled. I say this a lot, but GrahamSpencer is at its best when we are basically holding up a mirror and showing our clients who they really are at their very best."
"The GSearch process, being as inclusive as it is, was a key to the success of the project," said Swift. "It actually helped some of our team members know in advance why we weren't going in the direction of just trying to 'out-weird' other breweries. We were in search of something uniquely ours, and when GrahamSpencer helped us see it, everyone knew that was it. Our team buying in was important to me."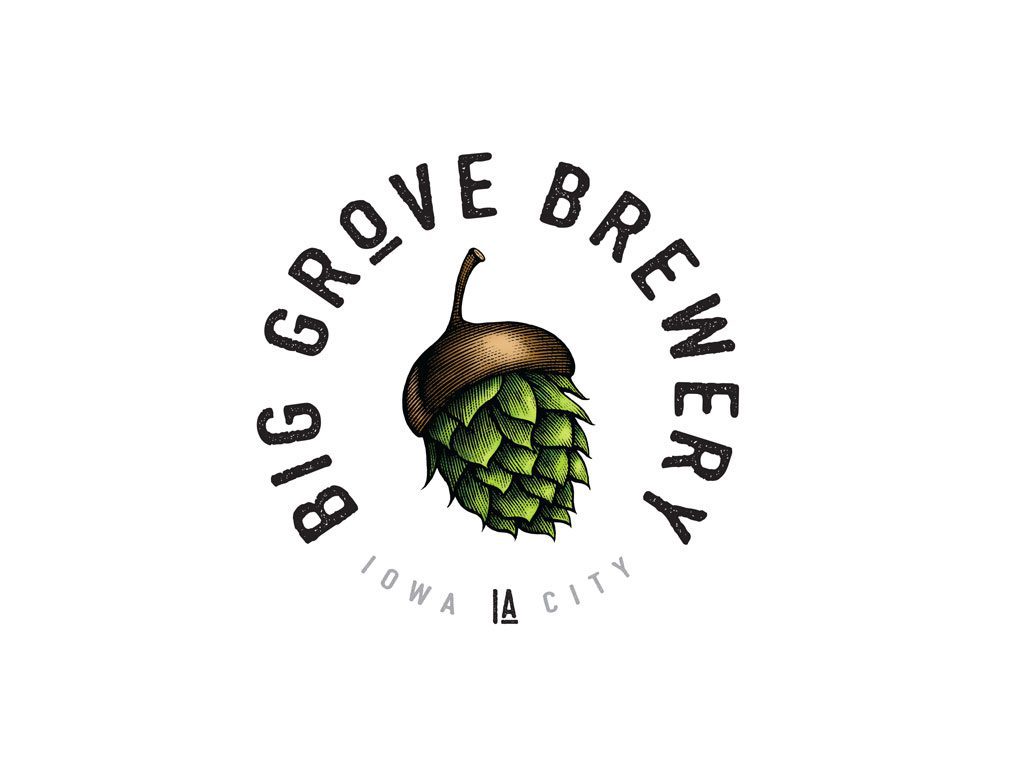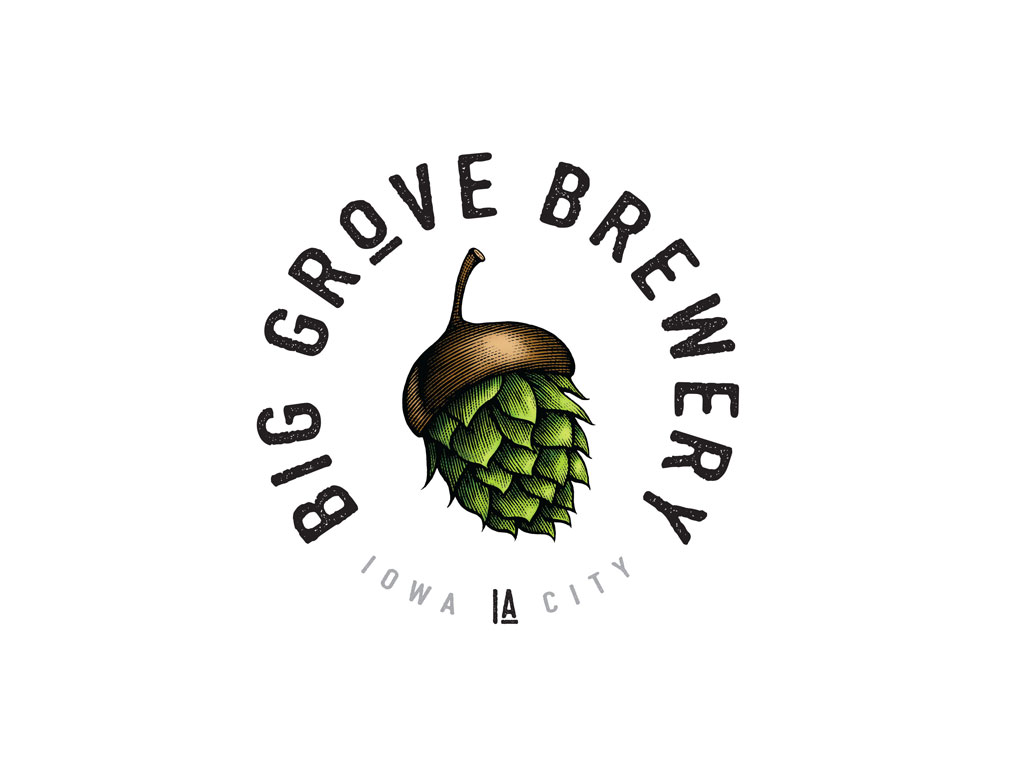 "It's amazing – really amazing – how successful the hop tree logo and hop corn secondary logo have been," said Swift. "Everything about the identity speaks to the customer – we know this because they tell us. And it speaks to us as a reflection of who we are as beer and food artisans."
"From menus to t-shirts to glassware to the amazing tap handles GrahamSpencer designed to our Big Grove For Good not-for-profit initiative they recommended, our brand has character and clearly defines us and adds value to our brand. If there is a word I'd use to describe our Big Grove identity, I think it would be 'timeless.'"
View Big Brove Brewery case study on the GrahamSpencer website.
About GrahamSpencer Brand + Content Solutions
Founded in 1987, GrahamSpencer is an integrated branding, content development and advertising agency headquartered in Rockford, IL with satellite locations in Chicago, IL; Nashville, TN; Salt Lake City, UT and Atlanta, GA. The firm is a diverse and dynamic multi-disciplinary team of subject matter experts who conduct research and strategic planning, do design, advertising, web development, execute digital and social communications campaigns, make exhibitions, do media planning and more.
For inquiries, please fill out our contact form or email [email protected]